Organoids, Cell Polarity, Immunology & Translational Research
Director, Cell Biology Program, Cancer Center, Co-Chief Division of Translational Research and Technology Innovation, Associate Professor Departments of Medicine and Pathology Beth Israel Deaconess Medical Center Harvard Medical School Boston, MA
Contact :
Email : smuthusw@bidmc.harvard.edu
Lab Address : 3 Blackfan circle, CLS 417D, Boston, MA 02115
Phone : 617-735-2238
After my early training in plant genetics, I moved into the field of cancer research for my graduate studies. Being a newcomer to the field, I first chose to develop a basic understanding of the disease and enrolled myself in pathology of cancer courses offered to medical students. What I learned in the course opened my eyes and my mind to the importance of cell and tissue morphology in diagnosing and understanding disease states. I also realized that to understand the biology of a disease, one needs to use models that resemble the disease, which laid the foundation for what we do in my laboratory today. We develop three-dimensional culture methods to grow normal, or tumor cells as organoids with a specific goal of recreating the morphology of normal and disease states to the best possible extent. We use these normal or tumor epithelial organoid models to understand cell biological mechanisms of normal development and disease progression; to study interaction with immune cells; to identify new therapies and; to assist oncologists in personalizing treatment decisions for cancer patients.
I believe that being a scientist is not just a profession; it is a passion. A passion worth pursuing for it is the only path to discover the unknown and to help people suffering from incurable diseases such as cancers. In addition, I take pride in being a citizen of science and help train the next generation of scientists discover their passion for scientific pursuit and sharpen their analytical and problem solving skills. Outside of science, I enjoy photography, gardening, hiking, and playing badminton.
Over the past 20 years, our laboratory has made significant contributions to the development of three-dimensional culture and organoid (mini-organ) models. In 2001, I developed a 3D culture method for growing MCF-10A cells and demonstrated the use of the platform for modeling transformation induced by the ErbB family of receptors (Nat. Cell Biol. 2001).We subsequently reported on the ways to use the models to understand morphogenesis, oncogene-induced effects on cell polarity, and transformation. More recently, we have expanded the utility of the 3D culture method to growing human pancreatic exocrine cells as ductal and acinar organoids (Nat. Med, 2015). We continue to develop new organoid models for other organ sites and continue to use these patient-derived organoid models from breast and pancreatic cancer for translational and clinical research. Active studies include identification of new drug-sensitivities, modeling drug resistance, biomarker discovery, and clinical trials evaluating use of co-clinical organoid pipeline to personalize treatment choices. On a broader note, it is worth noting that the use of 3D culture methods in cancer research has gone from being a rarity in 2001 to becoming the norm today.
Rethinking the role of cell polarity proteins in cancer: Studies in Drosophila models and mammals, including ours (Cell, 2008), have defined cell polarity proteins as tumor suppressors. However, recent studies from our laboratory demonstrate that many cell polarity proteins function as promoters of cell proliferation in cancer. We discovered that Par6 is overexpressed in breast cancer and promotes cell proliferation by activating MAPK signaling (Can. Res., 2008). Transgenic mouse models of a mislocalized mutant of Scribble develop mammary tumors by activating S6 kinase (Can Res, 2014). More recently, we demonstrated that LLGL2 is overexpressed in ER+ breast cancer cells. In this context, LLGL2 promotes adaptation to nutrition stress and tamoxifen resistance by increasing the cell surface level of the leucine transporter, SLC7A5, identify a role for cell polarity proteins as drivers of drug resistance (Nature, 2019). Thus, findings our laboratory is challenging the dogma that cell polarity proteins function as tumor suppressors and beginning to identify them as tumor promoters. Moving forward, we aim to understand why many cell polarity proteins are over expressed or amplified in various cancers to determine if cell polarity proteins are a hitherto unappreciated class of drug targets and biomarkers.
Cell polarity and metastasis:Studies from our laboratory showed that activation of ErbB2 induces disruption of apical-basal polarity by deregulating the Pa6/aPKC/Pard3 complex and tight junctions(Nat. Cell Biol. 2006). Consistent with a tumor-suppressive role for some polarity proteins, we showed that the downregulation of Pard3 cooperates with ErbB2 to induce cell invasion and lung metastasis in the absence of an overt EMT phenotype(Nat. Cell Biol. 2013). Our findings provide new insights to suggest that subtle changes in epithelial cell behavior, such as decreased cell-cell cohesion, are sufficient to confer metastatic behavior to tumor epithelia. To study metastasis and epithelial differentiation state plasticity in culture and in vivo, we recently reported the developed of new reporter system that can mark and eliminate basal or luminal epithelial cells(PLOS Bio, 2018). We continue to investigate mechanisms of metastasis with the intent of finding ways to intervene.
Cell polarity and immune cells: Apart from epithelial cells, we have identified an unexpected role for the cell polarity protein Scribble in macrophages. We discovered that Scrib polarizes to phagosomes and regulates the generation of reactive oxygen species to kill bacteria and control M1 versus M2 macrophage polarization and inflammation (Nat. Cell Biol. 2016). This finding has now opened new doors for investigating the role of cell polarity proteins in immune cells.
Immune-Tumor cells interaction: We are developing new methods for using organoids to model the interaction between tumor cells and T cell to understand the mechanisms of immune regulation in cancer and to discover new therapeutic approaches.
LING HUANG, PH.D
Instructor in Medicine
Research Topic : Continue advancing our stem cell-derived and tumor organoid method for human pancreatic cancer and use them to model human pancreatic cancer initiation in culture
lhuang6@bidmc.harvard.edu
BRUNO BOCkorny, MD
Instructor in Medicine; GI Oncology attending
Research Topic: My research is primarily focused on developing new approaches to discover biomarkers to diagnose pancreatic cancer and monitor disease state while patients are on treatment.
Hobbies: avid soccer player and fan
bbockorn@bidmc.harvard.edu
Joe grossman, MD
Instructor in Medicine; GI Oncology attending
Research Topic :Principal investigator of the Dana Farber Harvard Cancer Center protocol " A Feasibility Trial of Patient Derived Organoids as a Biomarker for Response to Therapy in Pancreatic Cancer" – the HOPE trial (Harnessing Organoids for PErsonalized Therapy)
Hobbies: Family, playing music, cooking.
jgrossm2@bidmc.harvard.edu
Sofia Perea Del Pino, Ph.D
Instructor in Medicine, Clinical research Staff Scientist II
Research Topic : HOPE clinical trial
sperea@bidmc.harvard.edu
Qingda Meng, PH.D
Research fellow
Research Topic: immunotherapy for pancreatic cancer
Hobbies: wood, stone and fossil collection
qmeng@bidmc.harvard.edu
Shanshan Xie, Ph.D
Research fellow
Research Topic:Immunotherapy for breast cancer
Hobbies: Traveling, Hiking and Bicycling.
sxie@bidmc.harvard.edu

Mike oliphant, Ph.D
Research fellow
Research Topic: ER+ Breast Cancer, Drug Resistance
Hobbies: Hanging out with my son (Lincoln), Chicago Sports, pick up basketball and craft beer!
michael_oliphant@hms.harvard.edu
Ridhdhi Desai, Ph.D
Research fellow
Research Topic : Modeling early stage human pancreatic lesions
Hobbies : Travelling and Enjoying Outdoors, Cooking, Spending time with family, board games and Hockey.
rrdesai@bidmc.harvard.edu
Arindam Bose, Ph.D
Research fellow
Research Topic : My goals are to overcome chemoresistance to DNA damaging agents (DDA) in pancreatic ductal adenocarcinoma (PDAC) by identifying DNA damage repair (DDR) and tolerance pathways used by PDAC epithelial cells.
Hobbies : Travel Planning, Cooking, Music and Soccer.
abose@bidmc.harvard.edu
Weilin LI, PH.D
Research fellow
Research Topic : Immunotherapy for Pancreatic Cancer
Hobbies : Billiards, Travel, Music
wli9@bidmc.harvard.edu
Research Associates/ Staff scientist
Dipikaa Akshinthala, MSc, MS
Senior Research Associate
Research Topic: Generate and Characterize patient derived organoid models for Breast and pancreas cancers
Hobbies: Cooking, avid reader, music, traveling and hiking
sakshint@bidmc.harvard.edu
Shibani Mukherjee, Ph.D
Staff Scientist I
Research Topic : Glioblastoma organoids
smukher3@bidmc.harvard.edu
Lukas Ritzer, BS
Research Assistant
Research Topic: Investigating the role of cell polarity proteins in breast cancer proliferation.
Hobbies: I enjoy wilderness camping, raising honeybees, and other outdoor activities. I also have interests in martial arts, soccer, and chess.
lritzer@bidmc.harvard.edu
Matt Digby, MS
Clinical Research assistant
Research Topic : preclinical studies
mdigby1@bidmc.harvard.edu
Christine M Lim
Visiting student- Candidate for BS Bioengineering, From Nanyang Technological University, 2021
Research Topic : Genetic mutations in pancreatitis. Computational predictive models for drug response in pancreatic cancer.
Hobbies : Trekking, Swimming, Dancing and Chinese Orchestra
Annual Lab Hiking trip- Halibut state park, MA- July 2019
Bye Bye Yasu !! Good Luck for your faculty position in Japan.
Annual Lab retreat - Topsham, Vermont -Oct 2018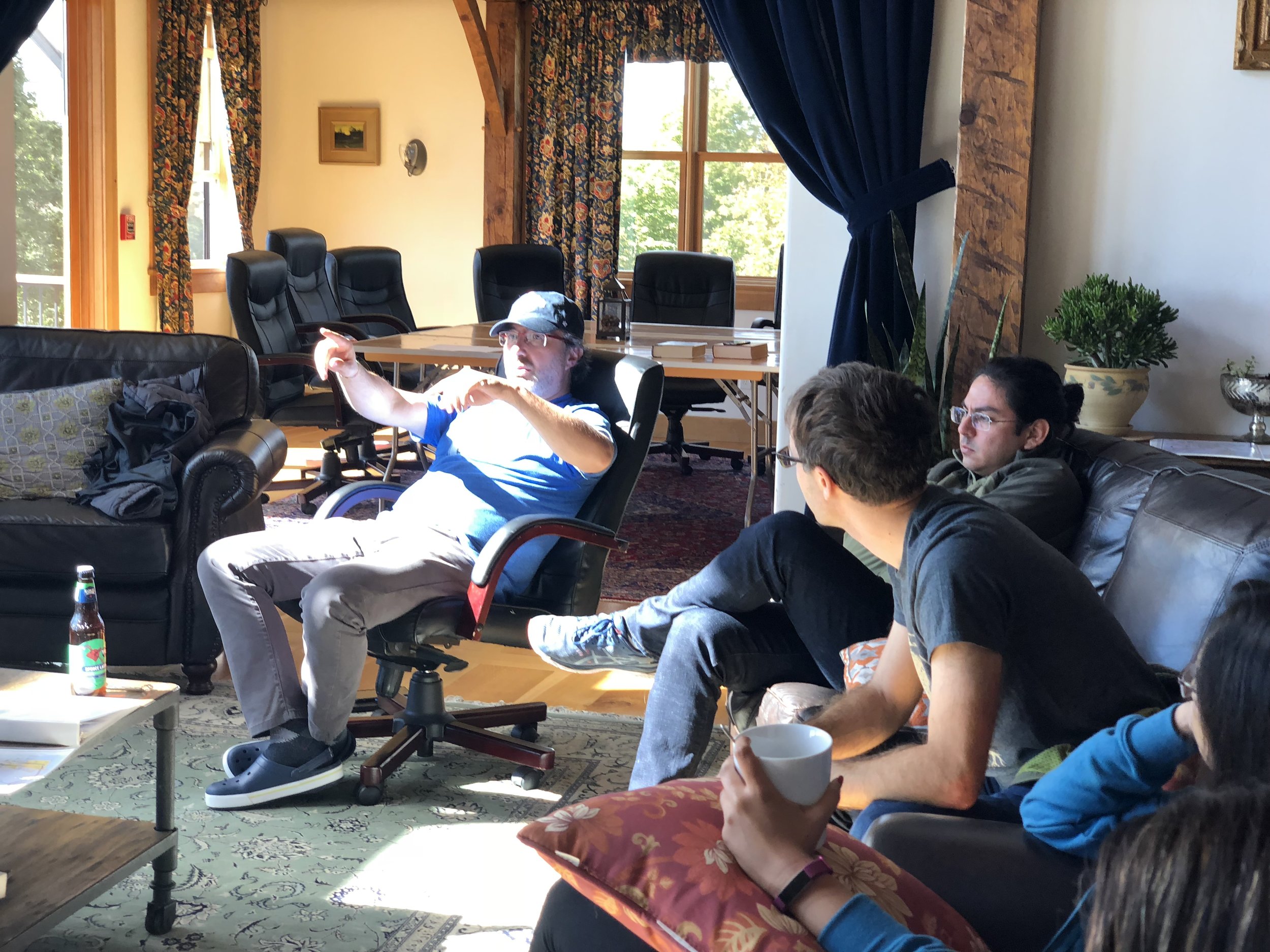 Lab dressed in Purple in honor of World Pancreatic cancer Day.
Pancreatic Cancer walk- Boston
Publications (last three years)
Saito Y, Li L, Coyaud E, Luna A, Sander C, Raught B, Asara J, Brown M, and Muthuswamy SK. (2019) LLGL2 rescues nutrient stress by promoting leucine uptake in ER+ breast cancer. Nature 2019 May;569(7755):275-279. doi: 10.1038/s41586-019-1126-2. PMID: 30996345.

Natividad RJ, Lalli ML, Muthuswamy SK, Asthagiri AR. (2018) Golgi Stabilization, Not Its Front-Rear Bias, Is Associated with EMT-Enhanced Fibrillar Migration. Biophys J. 2018 Nov 20;115(10):2067-2077. doi: 10.1016/j.bpj.2018.10.006. PMID: 30366626

Sonzogni O, Haynes J, Seifried LA, Kamel YM, Huang K, BeGora MD, Yeung FA, Robert-Tissot C, Heng YJ, Yuan X, Wulf GM, Kron KJ, Wagenblast E, Lupien M, Kislinger K, Hannon GJ, Muthuswamy SK (2018) Reporters to mark and eliminate basal or luminal epithelial cells in culture and in vivo. PLOS Biology, 16(6):e2004049. doi: 10.1371/journal.pbio.2004049. PMID:299248084

Muthuswamy SK. (2018) Organoid Models of Cancer Explode with Possibilities. Cell Stem Cell. 2018 Mar 1;22(3):290-291. doi: 10.1016/j.stem.2018.02.010. PMID: 29499146

Götz M, Muthuswamy SK. (2018) Editorial overview: Cell differentiation and development: New kids in the block-new tools and concepts opening new doors in development. Curr Opin Cell Biol. 2017 Dec;49:iv-v. doi: 10.1016/j.ceb.2018.01.012. PMID: 29463399

Saito Y, Desai RR, Muthuswamy SK. (2018) Reinterpreting polarity and cancer: The changing landscape from tumor suppression to tumor promotion. Biochim Biophys Acta. 1869(2):103-116. doi: 10.1016/j.bbcan.2017.12.001. PMID: 29369778

Gilles ME, Hao L, Huang L, Rupaimoole R, Lopez-Casas PP, Pulver E, Jeong JC, Muthuswamy SK, Hidalgo M, Bhatia SN, Slack FJ. (2018) Personalized RNA-medicine for pancreatic cancer. Clin Cancer Res. Apr 1; 24(7):1734-1747. doi: 10.1158/1078-0432.CCR-17-2733. PMID: 29330203

Dai X, Gan W, Li X, Wang S, Zhang W, Huang L, Liu S, Zhong Q, Guo J, Zhang J, Chen T, Shimizu K, Beca F, Blattner M, Vasudevan D, Buckley DL, Qi J, Buser L, Liu P, Inuzuka H, Beck AH, Wang L, Wild PJ, Garraway LA, Rubin MA, Barbieri CE, Wong KK, Muthuswamy SK, Huang J, Chen Y, Bradner JE, Wei W. (2017) Prostate cancer-associated SPOP mutations confer resistance to BET inhibitors through stabilization of BRD4. Nat Med. Sep; 23(9):1063-1071. doi: 10.1038/nm.4378. PMID: 28805820

Muthuswamy, SK. (2017) Bringing together the organoid field: from early beginnings to the road ahead. Development Mar, 144 (6): 963-967. doi: 10.1242/dev.144444. PMID: 28292842

Zheng, W., Umitsu, M., Jagan, I., Tran, CW., Ishiyama, N., BeGora, M., Araki, K., Ohashi, PS., Ikura, M., and Muthuswamy, SK. (2016) An interaction between Scribble and the NADPH oxidase complex controls M1 macrophage polarization and function. Nat. Cell Biol. Nov; 18 (11): 1244 - 52. doi: 10.1038/ncb3413. PMID:27694890

Milano, DF., Natividad, R., Saito, Y., Luo, CY., Muthuswamy, SK., and Asthagiri, AR. (2016) Positive quantitate relationship between EMT and contact-initiated sliding on fiber-like tracks. Biophys J. Oct 4; 111 (7): 1569 – 74. doi: 10.1016/j.bpj.2016.08.037. PMID:27705778

Milano DF, Ngai NA, Muthuswamy SK, Asthagiri AR. (2016) Regulators of Metastasis Modulate the Migratory Response to Cell Contact under Spatial Confinement. Biophys J. Apr 26;110 (8):1886-95. doi: 10.1016/j.bpj.2016.02.040. PMID:27119647

Baker, L, BeGora, M, Yeung FA, Feigin, ME, Rosenberg, AZ, Lowe, SW, Kislinger, T, and Muthuswamy, SK. (2016) SCRIBBLE is required for pregnancy-induced alveologenesis in the adult mammary gland. J. Cell Sci. 129 (12): 2307 - 15. doi: 10.1242/jcs.185413. PMID:27179074
For a full list of publications: https://www.ncbi.nlm.nih.gov/pubmed/?term=muthuswamy+sk
Graduate Students:
Marissa Nolan , Ph.D. from 2002-2008

Alexandra Lucs, Ph.D. from 2002-2007

Min Yu, Ph.D. from 2003-2006

Avi Rosenberg, MD,Ph D. from 2003-2008

Isabela Sujka, MSc. From 2004-2006

Bin Xue, Ph.D. from 2007-2012

Leena Baker, Ph.D. from 2010-2016

Laurie Siefried, Ph.D. from 2011-2019

Postdoctoral fellows:
Bin Xiang, Ph.D. from 2002-2006

Lixing Zhan, Ph.D. from 2004-2008

Victoria Aranda, Ph.D. from 2004-2008

Samit Chatterjee, Ph.D. from 2006-2010

Michael Feigin, Ph.D. from 2008-2013

Weiyue Zheng, Ph.D. from 2008-2015

Kannan Krishnamurthy, Ph.D from 2009-2011

Elaine McSherry, Ph.D from 2010-2012

Hui Wang, Ph.D. from 2013-2015

Ishaan Jagan, Ph.D from 2011-2016

Olmo Sonzogni, Ph.D from 2013-2016

Ann-Marie Fortier, Ph.D from 2013-2017

Yasu Saito, Ph.D from 2014-2019

Clinical Fellows
Catherine O'Brien, MD from 2011-2012

Courtney Burrows, M.D from 2015-2017

Omar Gandarilla, MD from 2017-2019

Summer fellows, visiting scholars, Undergrads
Winfred Fraizer – 2002

John McIntyre --2003

Srinjan Basu - 2004

Joe Calarco - 2005

Zandra Walton - 2008

Dr. Jonathan Chernoff

Agata Tinnirello -2010

Maria Chiara - 2018

Avni Bhagat 2018

Iyani Kelly 2018

Elizabeth Ferrer 2019

Alejandro Gonzalez, 2019

Lab/Research Assistants/Associates
Teresa Haire

Ken Bergami

Kiyomi Araki

Muluken Belew

Kai Huang

Karthika Yoganathan

Michael Begora

Faith Yeung

Nicholas Ngai

Jun Ikura
AFFILIATIONS & Funding sources